This August/September, Think Tank Gallery and Vans are throwing their next big art experience and events series in DTLA, and we're looking to partner with unique programming directors and event producers.
WHAT IS DS&WC?
Drinkin' Smokin' & West Coastin' is Think Tank Gallery's love (or hate) letter to the biggest exporter of culture in the world: the City of Los Angeles. Featuring hundreds of art pieces by some of the biggest artists in the skate, street, and illustration genres, and a packed calendar of events from dozens of local and national producers that are shaping the Southland, DS&WC will be LA's party scene this Summer.
It's also a chance for your event to jump in front of millions of LA-fetishizing-fanatics at one of the nation's Top 25 Most Instagrammable Arts Spaces. We know how to create a captivating and smoothly branded experience, and coincidentally have helped produce hundreds of events in our 7 years in DTLA. Our previous largescale installations have been shared by media to hundreds of millions of artists, musicians and fans, and it's time now to invite you to make a program about the city that defines us and has made this all possible.
Best of all, by teaming up with a new brand every night, we can take a venue and amenities that would normally cost you thousands, and give it to you a fraction of the price. Breakdown at the bottom of this page.
We are looking for anything. From supper clubs to comedy shows to dance parties to dodgeball tournaments. With a private alley, decked out lounges, and big gallery we can do it all. If you'd like to adapt your event to the theme, check the soundtrack and curatorial letter on our main page.
Now click on a section below to picture your crowd West Coastin':
We've been showing skate and street art for seven years in DTLA, and teaming up with Vans is making this our biggest show ever. All of our favorites are on board, and they're inviting their friends. Good art – from goldleafed to grimy – is our calling card. It's what brings crowds from all over to spend a night or three downtown, and it's what packs the house. And our artists' fans share us so much that we're next to the Guggenheim and LACMA in the most-shared arts spaces in the country. We make big installations and put your audience inside of them, then we give them an easy path to post. We have some clever installations lined up for DS&WC, and we're producing another mural for the fest, this time with arguably the most prolific street artist in the world right now:
TENTATIVE ART ACTIVATIONS
The Think Tank's signature arts + events style is what LA knows us for. It's simple: we build an installation-heavy exhibit with great art, then we add a sweet lounge in the back, and then we curate the illest young and established event producers in the city to take over that lounge, or the entire space. Historically, our opening nights see 3,000-5,000 attendees, with the rest of the nights exceeding 30,000 in total.
A huge calendar of events fills up quickly, we highlight a couple of the biggest ones, and the calendar turns into a PR machine all of its own, with each producer's audience finding out about each other's events, and guests coming back over and over. We've done it a bunch of times and it's always a win/win – even the artists benefit by selling art night after night.
PRIOR EVENT SERIES' AND TENTATIVE PROGRAMMING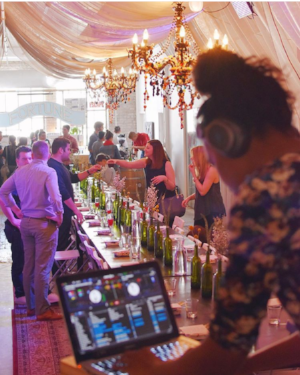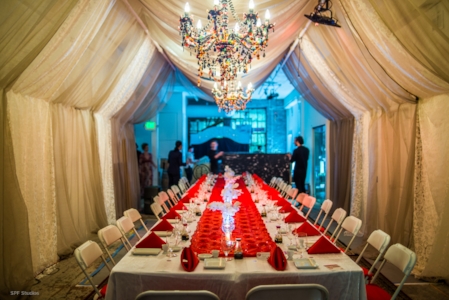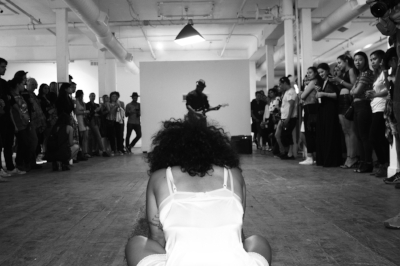 We've done these 30-day event series' a few times in the past. The biggest time was Break Bread, which saw 29 events in 28 days and had over 35,000 attendees across all daily and nightly plus open gallery hours. You can see a recap of that event series here and a glimpse of its calendar below. This time around we've teamed up with Little Face Productions (Rolling Stone's weed party curators of the year) and cARTel Arts (Brokechella, BrokeLA) to create a list of our strongest programming yet. While we're adding to this year's events list daily, you can see a couple examples of what's planned below and how the marketing will look.
Tentative dates are late August - mid September. We have three spaces available for events, one for drinkin,' one for smokin,' and one for general West Coastin' – you can activate all three with your event, but you'll have to choose your vices.
Audiences will land on an online calendar that shows which events will be 420-friendly, 21+ with bar, or completely dry, and buy tickets from there. Below you'll find an breakdown of costs, and the online strategy to get new people to your event.
Continue scrolling to see what these spaces will look like.
There are three components of this event series: drinkin,' smokin,' and West Coastin.' It's Cali so we've got a long history of good smokin,' and we're building a lounge to celebrate it. Check out the video below to see the 420-friendly space you would own all month, and picture a Tarantino-esque, Palm Springs + Hong Kong strip club with moody lighting, and pink & purple color washes on exposed brick. Then put a weed bar in the back, some glass art in the space, and some Cannabis Cabaret sprinkled in – that's our Vape Lounge.
It fits into the art show as our video art section, and the most photogenic piece in the house will be a nostalgic stack of tube TVs playing a piece made of old 90s newsreels – Shaq & Kobe, the OJ chase, and some classic commercials in between. Our video artist making the 90s newsreels montage is a huge fan of pot culture, and would love make a themed 90s-MTV style "commercial" with your product that plays in advance of the show on our landing page (below) and social networks. It would play on all of the TVs hundreds of times, showing to captive audiences lounging out all month long.
Best of all, our 420 Programming Director was just named The Best Pot Party in CA by Rolling Stone. Best known for her Cannabis Cabaret, Little Face's Katie Partlow is filling our calendar with smoker-friendly experiences. She's planning things like an indie rock showcase, Brew High High, tattoos, ambient sound bath and visuals, costume karaoke, movie night, cannabis education and certification class... and she will make sure your event comes out how you want it.
There are three components of this event series: drinkin,' smokin,' and West Coastin.' Cali has some classic and local staples in cocktail culture, and it's also known for its heavy wine culture. Best Coast Hip Hop, a key inspiration for our experience, also has some lowbrow drink preferences that match our art style well, so we're building a lounge to celebrate all of the above. Check out the video below to see the bar space you would own all month, but picture a DMV crashed into a dive bar to stay with the LA transpo theme that's informing our aesthetic.
Throw in a stage and some interactive and socially shareable activations like racing arcades, a photobooth themed after a CA Driver's License, air freshener coasters, and an RC Car racetrack that plays with the room's moody lighting, and you're in the DS&WC event lounge.
We had over 33,000 captive attendees at our last big arts fest (see a recap here), but that show saw hundreds of millions more hits online. We know that content is king. Our content is a reflection of all the art outlined above, but we take an extra step to make sure it can live alone online, too. We've been featured on Tumblr's radar three times with preview content, and we make teasers that stand for themselves.
Sinzi Velicescu will art direct a tour around town, picking up work from DS&WC talent in a classic car, capturing each disparate neighborhood of LA in her iconic style and releasing a new video each week. Nice camera on a classic car, good music, panoramic lenses... this series has a feeling to it. And at the end of each video that feeling will lead crowds to your show. Ancillary content like the official show playlist and a branded website will keep the brand consistent and your product in front of its fans this Summer – perhaps shooting some ladies in a low rider.
MOOD CONTENT FOR DS&WC TEASER CAMPAIGN
PREVIEW CONTENT FOR THINK TANK GALLERY'S DUDE, MONSTERS! (2012)
See below for past scaled-down weekly content campaign. Less narrative, less video art, but still weekly talent highlights.
LANDING PAGE + SOCIAL ACCOUNT + NEWSLETTER PROGRAM
We build one home to find all of the artists in the show and events on the calendar, and everything stems from there. Our art director will brand out this landing page to weave you into the experience, in the only place that audiences will head to find out what's happening each day. Custom social media accounts will drive giveaway campaigns, and a weekly newsletter will lay out what's happening for the week. We've also got an official DS&WC playlist that you could host...
Remember, we are looking for anything. From supper clubs to comedy shows to dance parties to dodgeball tournaments. With a private alley, decked out lounges, and big gallery, we can do it all. If you'd like to adapt your event to the theme, check the soundtrack and curatorial letter on our main page.
While it normally costs tens of thousands of dollars to rent a venue like this, pay for sound and lighting, pull permitting, hire bar staffing, add decor and market, we've discovered a model that allows a large group of creatives to come together night after night and throw inspiring events for a fraction of the cost. We require a deposit that is 90% off the normal venue rental rates (venue tour above), then immediately give it back to you from the event's revenue, and share profits after that. Here's how it works:
UP FRONT GUARANTEE
Producer offers guarantee up front as a deposit on the space, and selects a date on the calendar

Producer pays $600 for Sunday-Thursday event; $1200 for Friday or Saturday event or event with alcohol (limited number of alcoholic events)*
 
Think Tank Productions puts deposit down toward equipment and installations
 
Producer utilizes the gear listed below
 
*Case by case circumstances apply for branded or private events
PROFIT SHARING
After Guarantee is deposited, Producer makes back their entire deposit with the first revenue from the event*
 
After the Guarantee is returned, gross profit is shared 75%/25% (Producer/Think Tank)*
 
If there is a bar arrangement, a case by case split on profits is assessed
 
Producer keeps all profits on merchandise and is entitled to no profits on Think Tank art or merch sales
 
*Case by case circumstances apply for branded or private events
There are rules, of course: Only 10 events will carry liquor licenses, so Producers who wish to sell drinks must pay an additional fee or percentage to do so. Private events with open bars and custom decor can be arranged for larger up front guarantees. Most decor must remain as is, though alterations and additions are possible. Setup time will be limited, but stage and other tech will be available and in working order. Staff must be hired by Producer including Security as per the laws of the City of Los Angeles. In most cases a security deposit will be held prior to the event and kept in case Producer does not clean up from event. Weed product and alcohol product may not be present at the same event. A set number of tickets will be reserved for Think Tank sales staff to hang out and talk about artists' work. All ticket sales will go through our ticketing platform and checks released to Producers after the money reaches our account except under special circumstances.
Pending dates available: August 19th through September 16th, 2017
Coming soon: spec list for A/V, furniture, and other equipment available to Producers.
OUR TEAM
Scroll through images to see examples of our work.
Danny Heidner graduated with a BFA from Laguna College of Art and Design and then moved into Fine Art installation, Fabrication and Transport where he has worked since 2010. He has been lead installer on some complex works and has been a designer and fabricator for major projects like the Hotel Normandie and many Think Tank productions.
Bloody Gums Collective is run by Andrew Barsoum who has spent a decade in art installation when not working on his own exhibits. His last show "LA Is Trying to Kill Me" saw massive crowds and a gallery packed with work, and his team will lead install for our show as well as help with materials and art contribution.
Founder of the experiential production company, cARTel: Collaborative Arts LA (BROKE LA, No Budget Film Festival), Negin Singh is a producer, a creative in tech, a branding expert, and pulse detector for good events. She has been profiled on the White House Blog and was named one of the top 30 Indian Entrepreneurs under 30 by India Current Magazine.
Jacob Patterson has been the director of Think Tank Gallery aka Think Tank Productions for its seven years helping to shape DTLA arts culture. With a background in arts marketing (deviantART) and PR (Hijinx) but a boots-on-the-ground approach to event production, Patterson has collaborated with artists worldwide to create immersive and interactive arts experiences that tend to draw large crowds. "Mainstream enlightenment" is his aim, cleverly injecting content into party vibes.
Dino Nama has been taught by some of the best creatives in LA, moving up through a billion dollar company, Quest Nutrition. Currently engaged in the DTLA art scene as well as many creative projects in different industries, he strives to bring innovation and success to Think Tank's endeavors. He is 100% responsible for the Think Tank's constant improvement in branding.
Katelyn Partlow aka LITTLE FACE is disrupting the world of weed by putting on some of the most imaginative events in cannabis. Her Cannabis Cabaret shows art exhibitions, musicians, burlesque performers, comedians, and sensory experiences while the biggest brands in marijuana present their products to engaged audiences. She removes "stoner bro" culture from 420 culture, and has been highlighted in VICELAND and Rolling Stone for her efforts.
Please contact us for more info:
Jacob Patterson – Director – thinktankgallery@gmail.com – 916.670.3801